Was supposed to go 'yak fishin' this morning, but took a look at the forecast, and said SCREW THAT…
Over coffee, I decided that the thing to do was head for Jekyll Pier, and see about some Sheepshead. I arrived and got set up by about 1000, And it was just me and a Retired Gent named Ed, that I've seen around before, but hadn't talked to. He was going for Sheeps too.
Well, the fish were there, and they were biting, but neither of us could hang one… We fed 'em for about an hour, and then Mr. Ed finally gets a little one, that was thrown back. I got a couple small ones, and then Mr. Ed Hangs the big one of the day…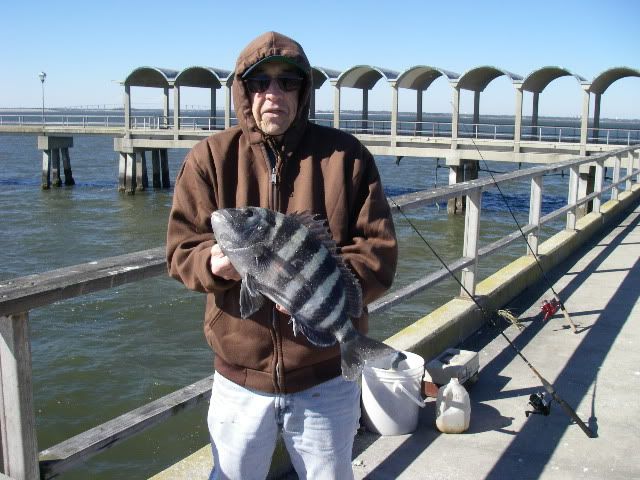 Here's my best one today, not as big as Mr. Ed's, but a decent fish, anyway…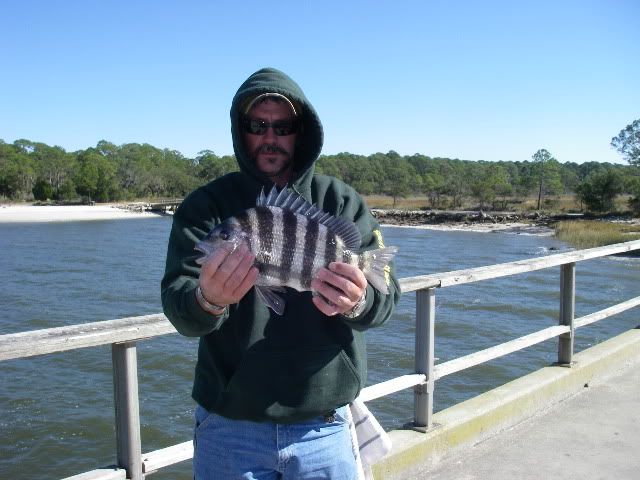 All together, we got more than a dozen, and these four went home with Mr. Ed…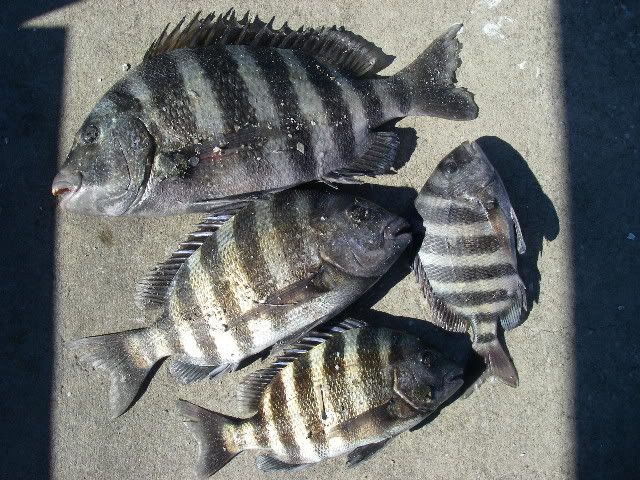 Bait of choice for me was Brined Fiddlers, and my special Coquina Chum. I even caught one on a Brined 'Flea. Mr Ed was using Razor Clams that he had picked at low tide, and chumming with crushed Oysters. Didn't seem to matter what you dropped down to 'em, they were biting.
I caught seven, lost two at the surface, and missed 312…
Mr. Ed's a character. He and his wife retired, bought a motorhome, and hit the road. They wangled their way into the Jekyll Campground four years ago, and have never left. She takes money at the pay gate, and he works at Putt-Putt Golf, and fishes. Mr. Ed says he wants to go Sharkin' with us, come Spring.
Maybe I'll be able to be "Mr. Rob", one day…