Nick and Me met up at Jekyll this morning in search of early Big Reds, and Sharks. Nick brought along some back-up named Mike (We call him Mary Poppins, because of a hilarious umbrella incident during T.S. Fay) A 'Yak Fishing buddy of mine named Dustin (Tugboat) also decided to come along, and see what Sharkin' was all about. Kinda cool, I think, that we're drawing a little interest… Here's what I saw, as I walked down the ramp, onto the sand…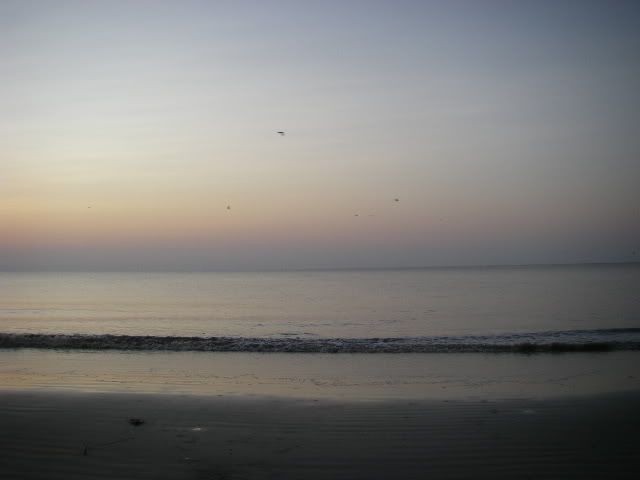 I went to work, getting some baits ready…
For the 6/0, yakked short.
For the 9/0, medium distance.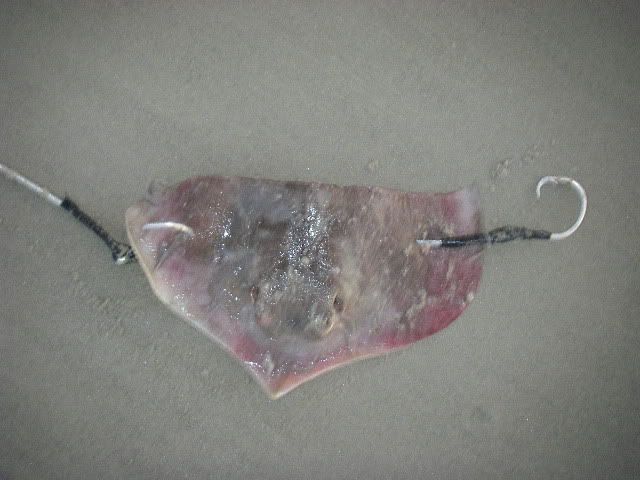 And finally, for the 12/0, taken toward Morocco…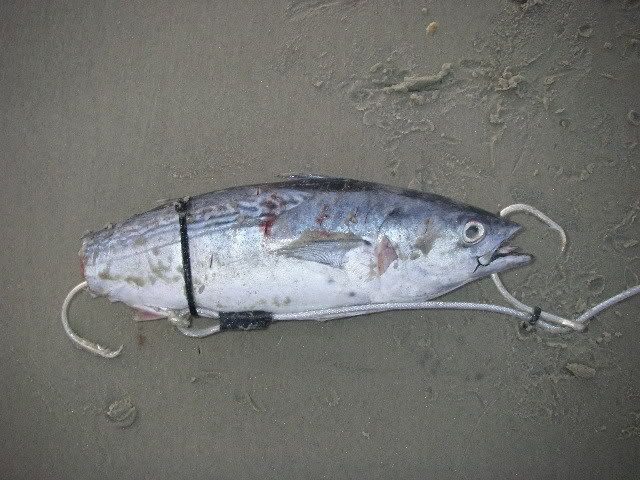 Deployment was easy as pie, no weed, no current, and no surf at all. All three of mine ready, Nick and Mike got set up..
We got into a little action early on, with Mike and Nick catching a couple of these…
I got a pair of Dinner Rays, for the freezer…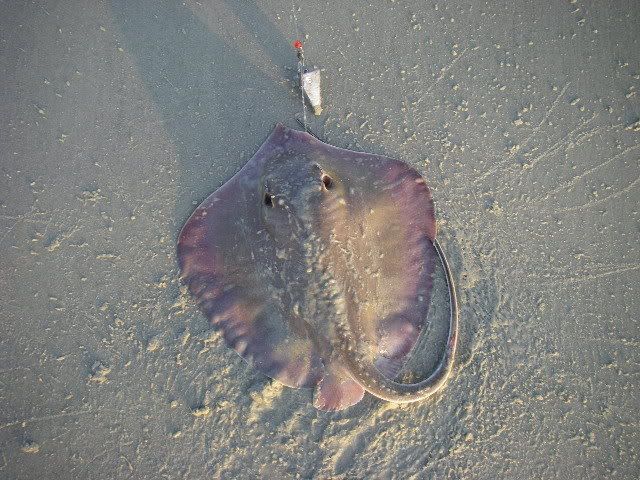 We also got a few small Whiting, but no Redfish came to visit.
We were all standing around, enjoying the nice morning, when my 6/0 layed over, a let out a long wail. I got set up, leaned back, and about 100 yards out the water explodes with the first big bite of the day! The fight is on, and after about ten minutes, Nick identifies a 6 foot Lemon, just outside the wash. Back and forth a time or two, and Nick's about 10 feet away from being able to get hold of the beast. I was already braggin' about taggin' my first shark, and looking for my camera, when I got too big for my britches, and tried to man handle the fish those last ten feet…
I pulled the DADGUMMED HOOK!!
The nice Lemon gave us a one-fin salute, and sped away, back into the sun. No one to be mad at but myself, because the gear held just fine, my team was there for back-up, and the shark was caught, if I hadn't rushed it.
It's never over, till it's over, folks!!
I got a chance to redeem myself, though, about an hour later. Ugly Betty finally got her first piece of action this morning, and man did she sound nice. How this fish managed to choke down that whole Bonito is beyond me, but after a short fight with one little run against the 12/0's drag, we slid this 5'8″ Blacktip onto the sand.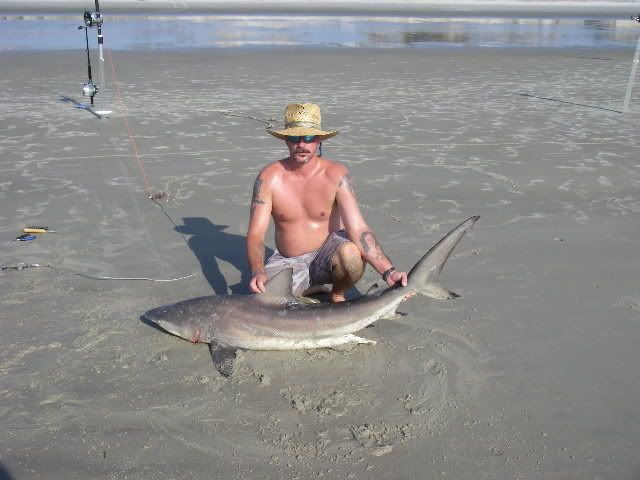 We managed to get a tag into this one, and let him go to see where he'll turn up next. This was my first tagged fish!
Nick decided to quit screwing around and rig a BIG bait, for the 14/0…
He took that thing out for a ride, and I stuck it down. Back on the beach, the small rod action had died, and nothing else was getting hit on the big stuff. By now it's just about 1300, and we're getting hot, and starting to talk about breaking camp.
Nick's 14/0 goes slack, and he's scrambling to the rod, I'm scrambling to get him belted, and he's trying very hard to catch up with whatever's charging the beach! He finally catches up, feels some life on the other end, and sets back…Something HEAVY! Then suddenly, NOTHING…Here's what he got back, of that big Bonehead.
Check out the perfect stair-stepped razor sharp cuts…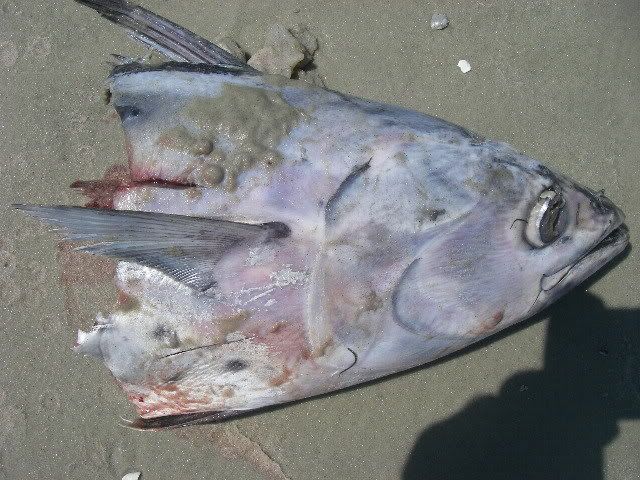 After that, it was time to pack it up, head home, and plan our revenge.
Team SSC, out till next time…