By Railroader, GEORGIA SHARK FISHING
We've been wanting to catch something other than Lemons and Blacktips, and on this trip, it happened! On to the report….Myself, Nick, Deano, Ray, and Jarson all met up Sunday at Jekyll Island, Ga. He were hoping to come up with some big Reds, and maybe a Shark or two. The weather was AWFUL, with onshore winds at 20-30, and rain off and on for the entire trip, but we've gotten used to that, so to work we went…
Nick had been at Piratefest on Tybee Island the night before, and didn't bother to change clothes. You can just imagine the looks we got from beach walkers, even the few that came by. They all gave our camp a wide berth…
Got a little Captain in you??
Between us, we had about six big rods yakked out, and several other rods casted for the Reds. This bait was the main attraction, and we figured it would set up a chum line all by itself… Nick ran it out on the 14/0.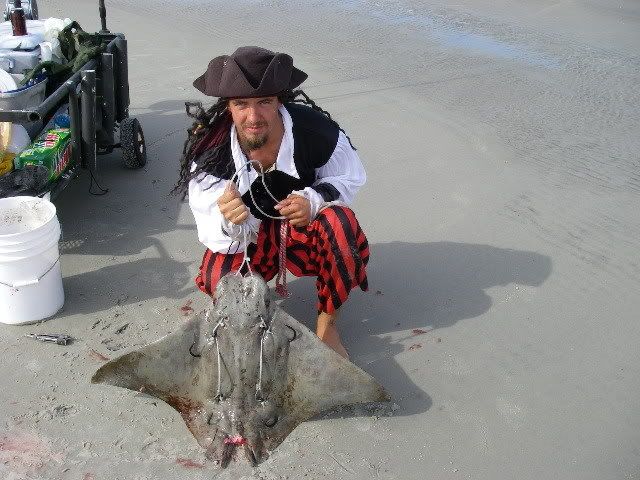 A close up..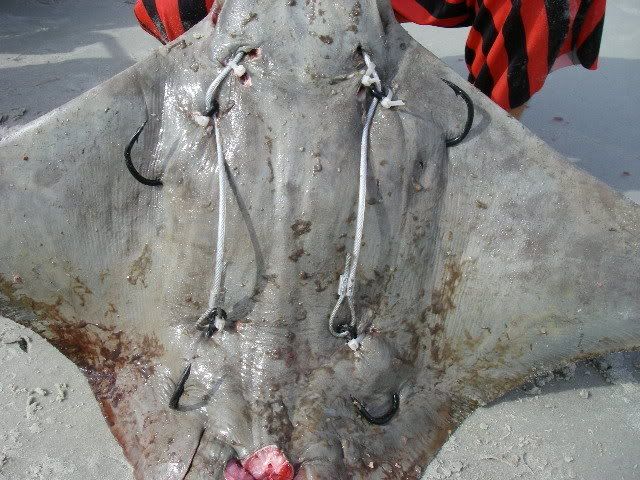 My baits were not so dramatic, a 2# Jack on the 9/0, and a "normal" sized Ray on the 12/0. Dean and Ray put out some Spanish Mack, and Bluefish baits, and the wait began.
The casted rods got a little action, but no Big Reds showed up. We caught some Sharpies, a couple small Finetooths, and another Stingray for the bait cooler. Deano had a run that looked good to start with, but it ended up being dropped. My 9/0 went slack, and then made a couple bounces, and I had a fish on! This little Sandbar shark was choking plum to death on the 2# Jack Crevalle… 
I caught another Sandbar the same size on one of my casted rods, and he put up a good fight on 15# mono and a Penn 525…Shortly after that, I got another bite on the surf rod, and whatever was on the other end could not be stopped, or even slowed. I got down to about 20 wraps on the spool, locked up, and held my breath. POP! Shock leader knot broke. At least I got all my line back.
The wind howled, the rain threatened, and about 1530 in the afternoon, we'd had enough. We were in the serious stages of breaking camp, and heading for the hotel, with visions of a shower and a nice plate of food, when Nick's 14/0 goes slack, and the line's moving against the current…He cranks up the slack, hammers the rod, and it's ON! Not much pull, just a steady pressure, that's moving down the beach, right thru the rest of the rods. I get the belt on him, and we begin the over and under dance, clearing the other rods. The whole time Nick's pulling and cranking, and we end up about 100 yards down the beach, with NO ROPE! I see the end of the leader in the wash, only 20 feet to go, but no fish…Then I see the dorsal fin, and see that it's a good one. A wave rolled the fish, and I see that it's a Bull, but I've still got no rope, and all I can do is grab the tail, hang on, and rassle him onto the sand!
Man, you wanna talk about a couple of PROUD fellers? We FINALLY got something other than Blacktips and Lemons!!!
Here's Captain Blood, with his prize!!!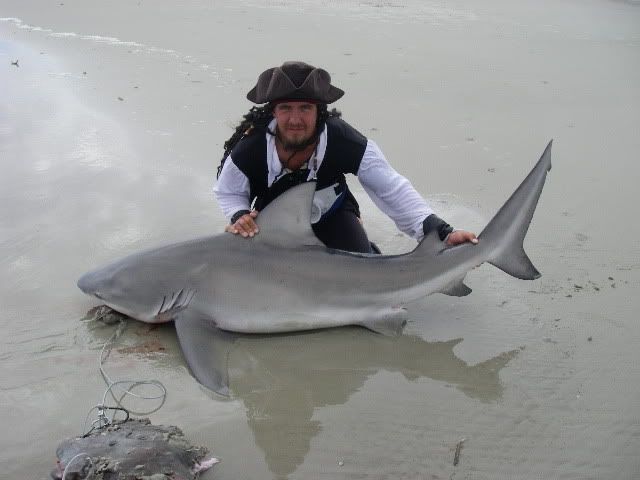 He stole this pose from ME, but the Pirate suit just sets it off, don't ya think??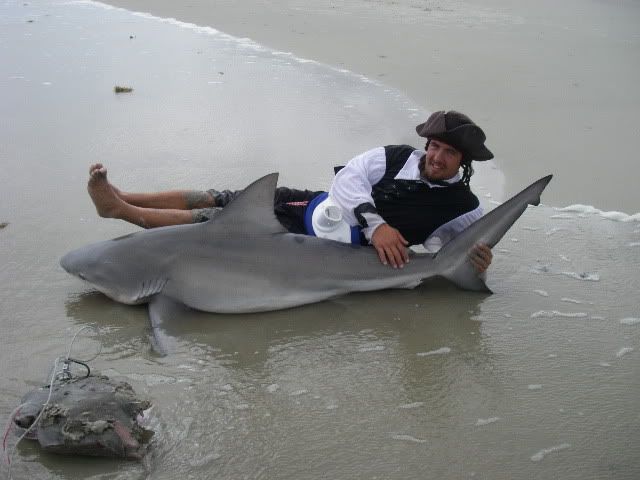 The dental work…We got LUCKY, 'cause the hook just popped right out!
And saying goodbye…
Now, check out what was left of that big ol' Ray that Nick had for a bait…
Pretty well chewed, I'd say.
The Camp Mascot, for this trip..
After that, it was time for a shower, a fine dinner a Zachry's Seafood (excellent), and Round Two at the beach, behind the hotel…
Round Two was uneventful, other than me me doing my imitation of the Andrea Gale in The Perfect Storm. COMPLETELY up-ended, and flipped straight over backwards, by a wave that the crew said was taller than my Mini-X, which is 9 feet. I had two baits, and 4 20/0 Mustads in the yak at the time, and when I got my head above water, I was wrapped in both leaders. It only took the surf about one minute to beach me, and I emerged humbled, but unscathed. Nick decided to give it a try, and somehow managed to get The Chewed Up Ray back into the water, and so we casted some baits, and bet the evening on the 14/0. Jason got a good run, end ended up nearly getting spooled on a Penn 535, before being broke off. That was the extent of the action for Round Two. We knocked it off about 2230, and went to bed.
Day two, the weather was worse than before, and there was no hope of 'yakkin on the beach, so we headed to the Sound side, and set up shop there…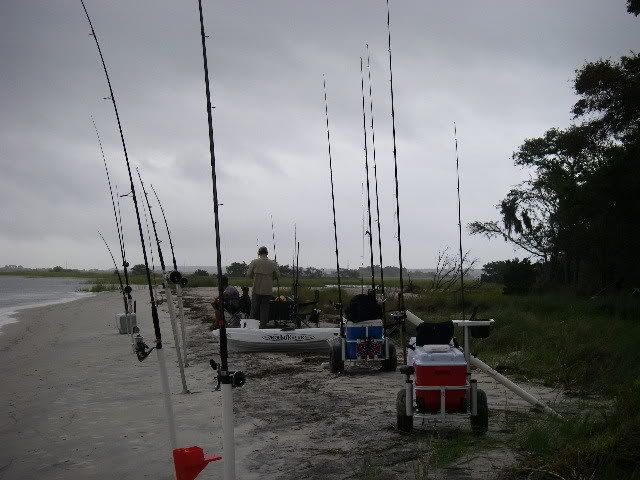 We were hoping this shrimp boat would start running back and forth, but he never did…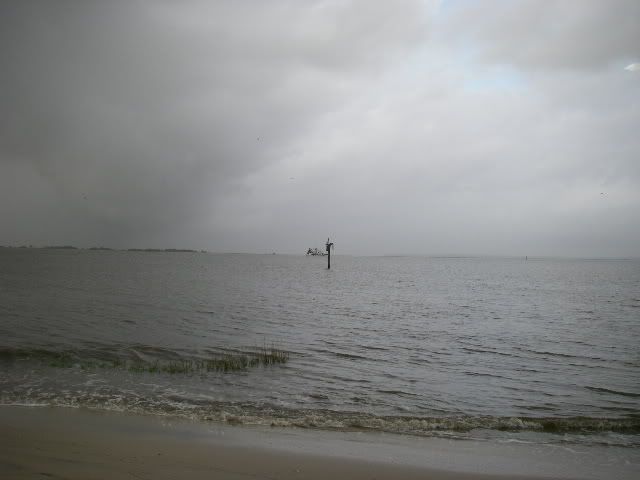 The current was STRONG, but we got our baits out, and settled. Here's Ray, taking his first turn at 'yakkin a bait…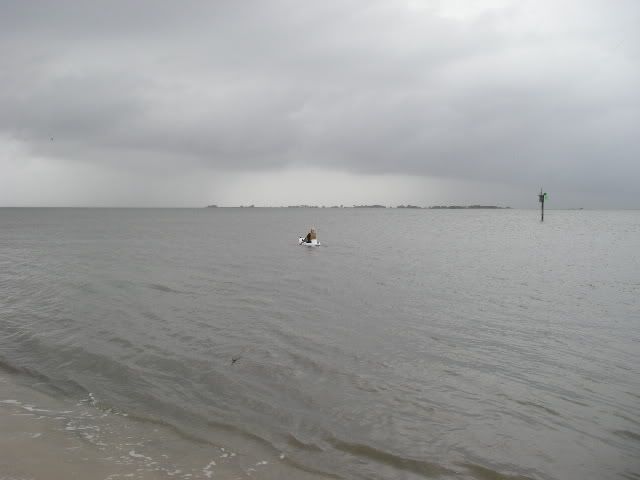 Waiting on a bite, and the storm…
The only thing that bit this morning were these guys. Anyone know if Clearnosed Skates make good Shark Bait??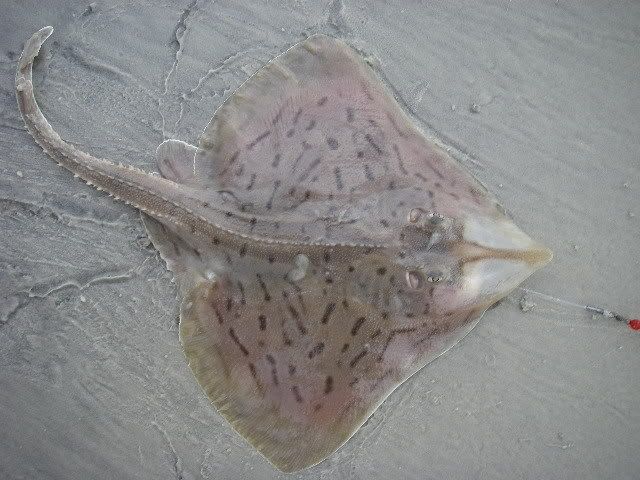 I just thought this would make a cool pic..
After no runs, few bites, and rain squalls, we called it quits, and went our seperate ways about noon. Not the MOST productive trip of the year, but it sure had it's moments!
Team SSC, Out till next time.