Railroader, GEORGIA SHARK FISHING
This report's a little late, but better late than never, right??Was headed out on Monday for a little surf fishing, and since the weather looked good, I decided to 'yak out a couple of baits, just for the heck of it. My buddy Jim had secured me a mess of kingfish and barracuda heads from an offshore contact, so I thought this just might be the day…A BIG sailcat head on the 6/0, and a kingfish head on the 9/0, paddled out 200 and 250 yards, spiked up and the wait was on. I surf fished for the "normal stuff" while waiting for the biggun's to hopefully go off. We caught some whiting, with a few nice ones, here's Jim with a good 'un…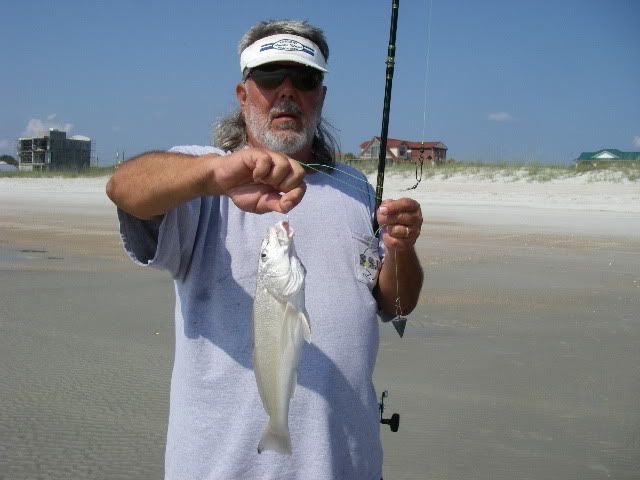 He ended up keeping about a half dozen for dinner, and along the way, I ended up with a nice ray, and a ladyfish that went into the cooler for bait.
I just happened to be looking at the 9/0, when I noticed that it was slack!!! Grab the belt, and start cranking in line, about a hundred yards worth, just waiting the whole time for the explosion that never came….I ended up with this guy on the line, and I don't know HOW he managed to get enough of that kingfish head in his mouth to get hooked…
More a chore than a joy, reeling the little guy in from 150 yds on a 9/0, but hey, it's a shark!

I also caught this guy, who was not happy….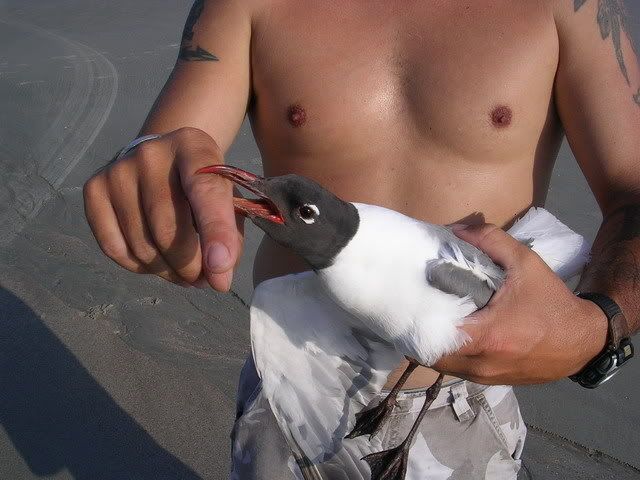 We knocked it off about 1300, hit the Great Kahn Asian Buffet, and headed home to get ready for the next day's 'yak adventure…
Tuesday, I took a couple guys to one of my favorite haunts, at St. Simons Island, for a little 'yak fishing….
L2KF, BurleyMan, and I were SUPPOSED to meet at 0530, for a trip to Village Creek…We were gonna hit it early, and watch the sun rise. Well, it was 05:17

when the wife punched me in the ribs and woke me up….

I ended up being 57 minutes late, and I paid dearly for my oversleeping. My TOTAL catch for the day was one skinny Trout. I missed several bites, but the Redfish Drought continues for me.
John, however, is another story…..
We had fished hard all morning, hitting the normal spots, and seeing dozens of nice Reds, but they REFUSED to even act like they wanted to bite. It was frustration, times three.
There were a few Trout picked up, a Bluefish, and a self released Flounder by Josh and John, but the bite was painfully slow.
We began to explore some new territory, when John headed up into a little creek that I've passed by a bunch of times, and never went in. It was CLOSE quarters, barely enough room for two 'yaks, let alone three, but here we were, when all Hell broke loose. We were all tossing lures to some visible fish, when Johns reel starts screaming…
We're all bunched up, a NASTY Redfish running back and forth, up and down, under our 'yaks, and towing John wherever it wanted to. This went on for about 10 minutes, sheer and utter CHAOS. A Bar-Room Brawl, in the truest sense of the word. Several times it looked as though the fish would win, but John would turn the tables and gain a little ground. We were all pumped, hooting and hollering, and having a ball, Especially when I finally slid the net under THIS GUY, and handed the whole package to John, who was only an arms length away…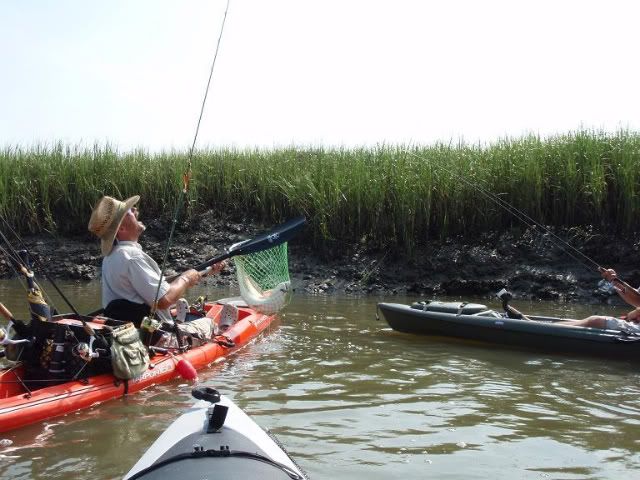 A beautiful fish, in the 32″ neighborhood, that John said was by far his biggest 'Yak Red yet. He was released, and I KNOW where he lives…A place we now call "John's Creek".

But John was NOT done yet. As we came back across the same spot, he kind of casually remarks that he's gonna get another one, and here is the result, dern his hide…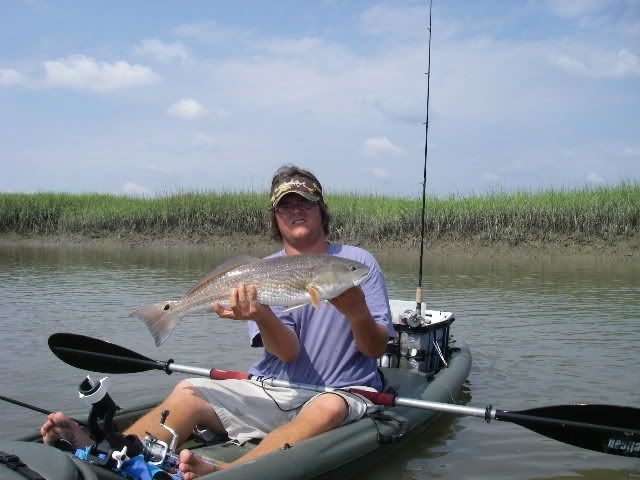 For me, it was a GREAT day, with enjoyable company, and a couple friends who wanted a tour of my stompin' grounds got some fish for their efforts.

And that's what's been going on with the Southern Salt Command…