MarkBob, Billy, and Me met up this morning at the Combat Launch. We were fishing by the time the sun peeped over the grass, and it didn't take long before I got the skunk off, with this little Trout.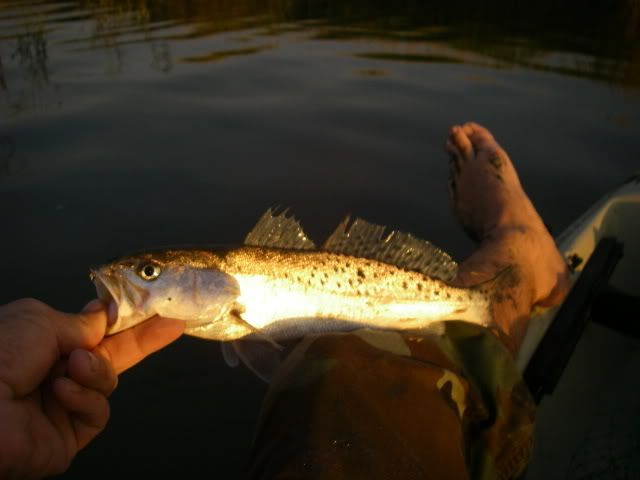 We fished along hitting grass points, and the beginnings of the shell banks the falling tide was exposing. We hit a couple of small creeks, and I finally got to explore some places that are usually dry, by the time I get there.
We all caught Trout, working our way all the way out to the mouth of the creek. We set out to find another creek I'd seen on Google Earth, but by this time the wind had gotten up and the big water was chopping pretty good. After traveling about 1/2 a mile, we decided to turn around, and battle our way back the way we came, this time into a stiff headwind.
Once back in our original creek, the tide was almost low, and it was time to hunt up some Redfish. Today, they were right where they were supposed to be, and as I was mindlessly tossing a jig, and talking to Billy, the water exploded, and I had a nice fish on…It was a good fight, but I finally got him to the net.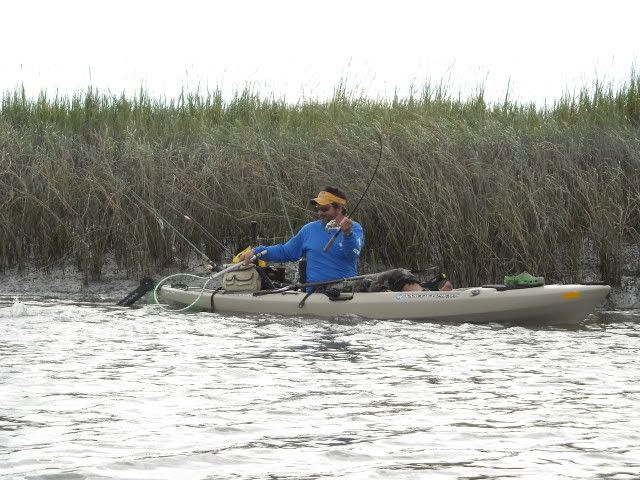 Not too shabby! This fish was a chunky feller, about 28″-30″. I think he was heavier than the 32.5″ I got the other day…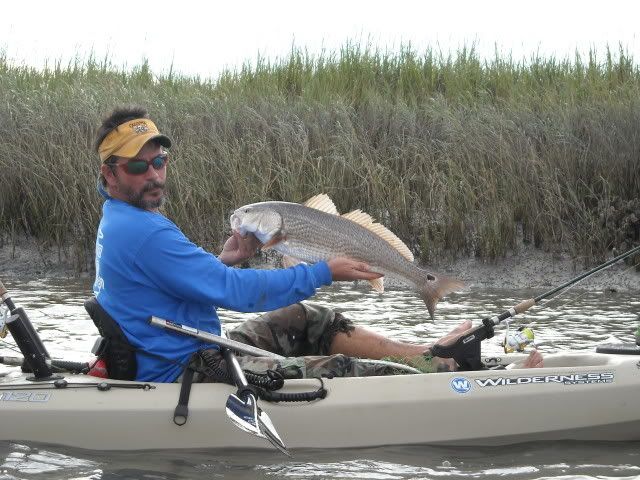 Another view..
Next up, Mark gets NAILED, right beside my 'yak, and the fight was on.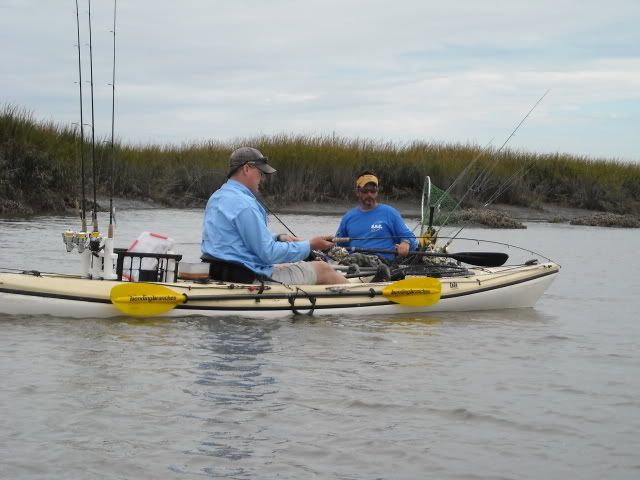 After a short battle, he nets his best Red to date, another FAT ONE at 22″.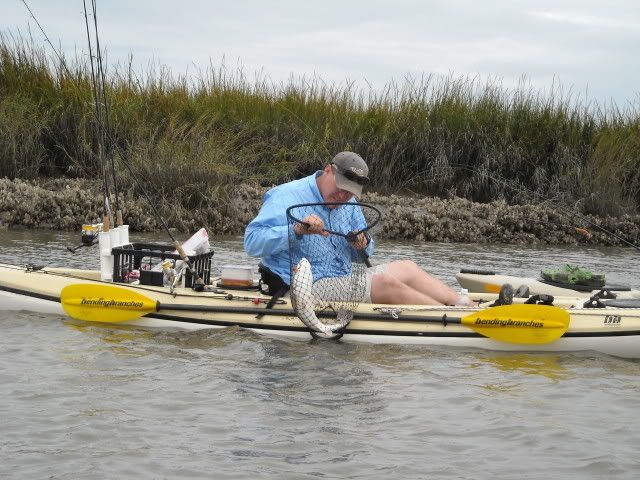 Congrats Mark, on the fine keeper fish…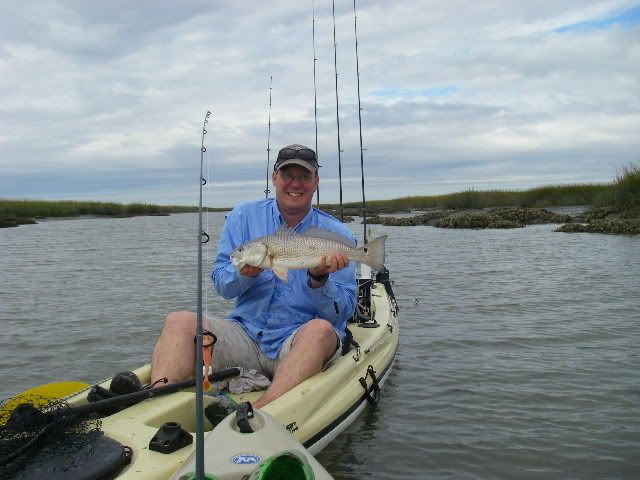 I fooled one more smaller Red, nice, but not like the others…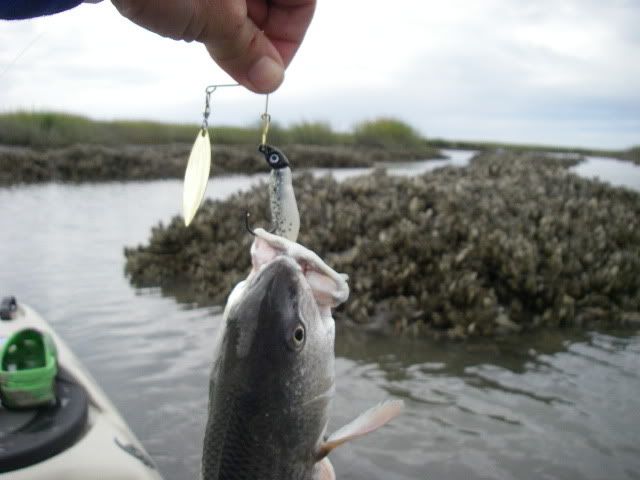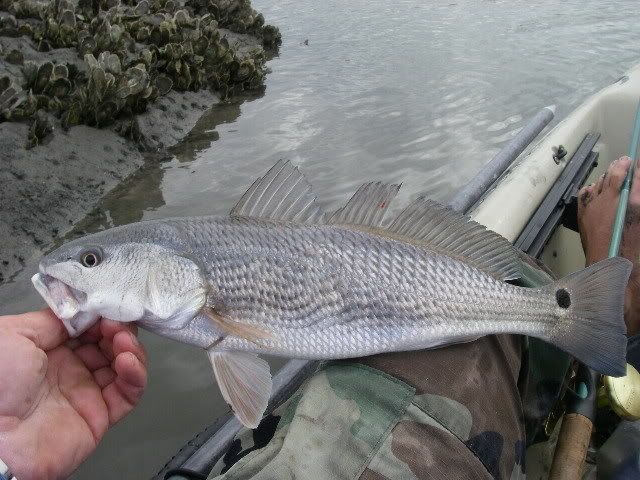 All the fighting activity seemed to shut the bite down, so we hunted for another school, but struck out..
I did manage to pick up this small Flounder, to complete my SLAM!!!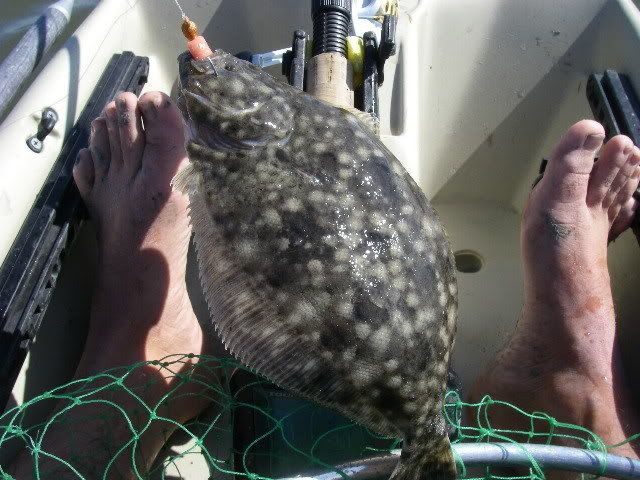 By now there was enough water to head out, so we made our way back thru the jungle…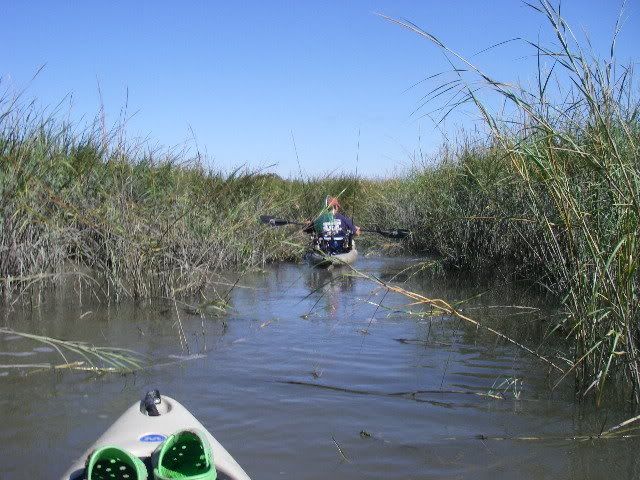 A good day for me, I ended up with 10 Trout (only 4 or 5 legal), 2 Redfish, and the Flounder. For once, I caught fish on all four rods I was carrying, and on five different lures. Today's choices were: Slayer Spinnerbait, Mirrodine, Gulp! Curly, DOA Shrimp, and Slurp Paddletail.
As always, we had a good time.